The Actual Fight
While TURKIYE is going to May 14, there are interesting and very interesting developments outside. The probability of the shadow of what is happening falling here is not small…
THE GLOBAL FINANCE SYSTEM IS NOT FULLY KNOWN in Turkiye or the rest of the world. Although it is known, there is no one who writes about it… However, it is the structure that contains power! Those who follow will know. I wrote a lot about Jeffrey Epstein.
When he was killed in prison, I reported that it was going to cause important events. Epstein was a name that was taken from a humble life to the top of the world. He was a special person. US presidents, kings, queens and bosses were friends with him! So how was this happening? How were the names that could not be on the normal relationship network featured in Epstein's BLACK LIST…
Let's open it. Let's continue by coming to date…
There is a structure that includes Epstein and even that Trump allegedly appears in the same place. In the WEST, it is called the Khazarian Mafia. In addition to the political power of this structure, its important weapon was its FINANCIAL EVENT.
One of the players who took an important place in this NETWORK, located at the top of the world, was JP MORGAN. Historically, there was a network created by savings from EAST INDIA COMPANY. In that network, families such as Rothschild-Rockefeller-Sassoon- JardineMatheson-Oppenheimers were taking important roles in DUTY DISTRIBUTION. This is how the GLOBAL TEMPLATE showed up. This formation also had an important player hanging from EAST INDIA COMPANY to the present day. JP MORGAN…
In the beginning of April, agencies were getting important news: JP Morgan CEO will testify with allegation involved in the Epstein scandal…
Jamie Dimon, CEO of the US bank JP Morgan, would be investigated for opening an account with Jeffrey Epstein and contributing to money traffic. However, the media organs that included these works were trying to read what was happening through girls at a young age. One hand, one mind was dealing with shrinking a GLOBAL operation.
US financier and businessman Epstein was tried for crimes such as prostitution and child abuse, and then suspiciously committed suicide in prison. The bank was also in big trouble when it was revealed that Epstein had invested money in the bank, JP Morgan, for 15 years from 1998 to 2013. While the judge did not accept JP Morgan's request to reject the cases, he also allowed the case against Deutsche Bank, filed by one of the girls who were victims of Epstein, to continue. So the abused little girls were talking, and another will was walking to the BARONS OF THE GLOBAL FINANCE SYSTEM. That's actually what happened.
The claim that "Trump got closer to RUSSIA", "Russia intervened in the US elections" was the elements that should be seen on the same denominator. There was more! Within the framework of the same case, Sergey Brin, Thomas Pritzker, Mortimer Zuckerman would also testify in court. The subject had nothing to do with little girls other than a small connection. THE GLOBAL WAR CONTINUES AND EVERYONE IS DOING THEIR BEST FOR THE NEW WORLD ORDER!
On the other hand, Jes Staley, one of the former players of JP Morgan, was also in trouble because of Epstein. He was also trying to escape to BARCLAY BANK and walk away. "The prostitution network cannot be conducted without the support of financial institutions," the girls who said they were abused by the Epstein network said in court. A mind wanted them to say so. Let's continue…
While an investigation was made against the JP Morgan CEO, the storm was taking place in the BANKING BUSINESS…
In the US, Silicon Valley and Signature Bank were suddenly collapsing and a lot of concern was spreading. This effect was splashing on Europe and the 167-year-old Credit Suisse was shaking. Credit Suisse was one of the most important banks in the world, according to the Financial Stability Board, which monitors the global financial system. The bank received a loan of $50 billion (54 billion Swiss francs) from the Swiss National Bank, which led to a short-term rise in the bank's stock price.
However, it was obvious that this move was not enough to stop the deposit exit. The BANK, which managed the $1.4 trillion ASSET, WAS GOING BANKRUPT. President of Switzerland, Alain Berset, stepped in. In an effort to avoid turmoil in global banking that would further shake the markets, he has announced that he bought the little rival of banking giant UBS, Credit Suisse. There were reports of the world's leading INTELLIGENCE ORGANIZATIONS on Credit Suisse. According to reports, the bank was the mafia's bank. It was the center where all kinds of operations were taking place. And more interestingly, it was suggested that the power behind the bank was the Khazarian Mafia!
In fact, the British Foreign Intelligence Organization MI6 said in a report, "Credit Suisse is indeed involved in international crime. In Geneva, it is money laundering, bribing politicians and all of the Queen's prime ministers to betray the homeland. We have all the evidence…" it was saying.
Organizations such as the CIA or MOSSAD also had reports that were no different. So the BANK had no unknown sides. The point to focus on here was that ONE ECOLE was seen that a power ranged from Credit Suisse to JP MORGAN to Jamie Dimon, the bank's CEO. This ECOLE persistently collected all these players, albeit under the "Khazarian Mafia" label. And the bankrupt banks and the players who were oppressed through the LAW were also in this scope…
As I often write, the place where this WAR could be seen easily was the USA. The two ecoles there were fiercely fighting. Both had GLOBAL PLANS. And this struggle was spreading everywhere in some way. This was a fight between families with strong states and families on the opposite side who stood out by saying "We are the state". There were a lot of very important names whose names you didn't hear.
We didn't know. We were just experiencing the consequences. It was a fight that moved to the top of the world based on Jeffrey Epstein and the little girls taken to his ISLAND! I've written about it before! Elon Musk was also close to Epstein. It was even claimed that Talulah Riley, the ex-wife of Tesla and SpaceX CEO Elon Musk, was also presented to MUSK by Ghislaine Maxwell, who was accused of helping Jeffrey Epstein! As a CHILD BRIDE… Riley and Musk had two marriages, one lasting from 2010 to 2012 and the other from 2013 to 2016…
While the top of the world was so complicated, it was impossible for Turkiye not to be affected by them. That is the tension on the way to May 14th. Therefore, the election results will definitely have GLOBAL EFFECTS…
Our election will change a lot of things.
Look at it like this…


Follow WakeUpUmmah

READ ALL ARTICLES

20.04.2023
Weapon
Let's host not only Kilicdaroglu but also Aksener here today. Then, let's see what Devlet Bahceli wanted to convey with the "InshaAllah Turkiye will not change" statement that he said at the end of his speech…
And let's move forward without forgetting the May 28 election evaluation of Hungarian leader ORBAN…
It was years ago. The late Mehmet Ali Birand was a young journalist. As the leader of the DAY 32 team, he was interviewing Palestinian leader Yasser Arafat. If I'm not mistaken, it was broadcast on TRT-1. Maybe I didn't remember the whole conversation. But I never forgot the crucial part. It was towards the end of the interview. In his own style, Birand was leaning forward a little and asking, making him feel that he is curious…
MR. ARAFAT DO YOU HAVE A WEAPON? DO YOU CARRY A WEAPON? Of course, Arafat was also an important name. He was an important character. He replied "YES" with a smile. Birand got even more excited with this answer and immediately sent the second question.. CAN WE SEE? While Birand was waiting curiously what ARAFAT would do, or rather couldn't hide that he wanted to see what kind of weapon he was carrying, his pupils were almost dilated. However, there was an answer from YASER ARAFAT that was like a lesson that I never forgot and took notes: MR BIRAND, IF I TAKE IT OUT, I HAVE TO SHOOT.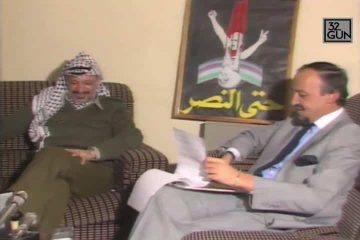 Why did I share this? Yes, to explain the situation of Aksener… The leader of the IYI PARTY was insisting that " THE CANDIDATE TO BE ELECTED" and saying that Kilicdaroglu could not win. She wanted to change that too. She was right. Time has already shown the results. It was understood how well she read politics. But it wasn't enough! She was just as wrong about herself and her party. She couldn't see THOSE depended on her.
She was missing the fact that she would achieve much more successful results by going her own way without joining the six party opposition table. She was sitting at table with the questionnaires in her hand. The day the CANDIDATE was to be determined, there was a crisis. According to the polls, Aksener wanted the CHP leader not to be a CANDIDATE. Kilicdaroglu was strongly against this and almost fired the IYI PARTY LEADER from the TABLE. The crisis was getting bigger and Aksener was on the screen and making her speech that took its place in political history.
SHE WAS DRAMATICALLY REACHING FOR HER WEAPON, BUT NOT SHOOTING! No one could describe it! She was right about most of the things she said on the screen. Could be. However, would a leader call both Imamoglu and Yavas LIVE and say "BE A CANDIDATE"? Come on, if you wanted to find a CANDIDATE on live, choose at least one of them and ask him! WHY DID YOU EXPAND THE CRISIS FURTHER BY CALLING TO BOTH WHEN YOU NEEDED ONE NAME? Political WISDOM already orders the people who will stand against Kilicdaroglu to deal with these things beforehand! You would meet with TWO MAYORS separately and carry someone with a HIDDEN AGENDA!
As soon as Kemal Kilicdaroglu did not give up, you would take the bomb and throw it in his lap! She didn't. She got up from the table. She left. She could not find a candidate and she continued. Then she turned and came back to table. She damaged herself and the party! Have there been great injustices and immorality? YES! TRUE. But such was the leadership! You will act according to the masses, what was the need for you! While Mrs. Aksener was wrong about herself, she was completely right the Kilicdaroglu issue…
Panic begins. Resignations were coming from the party, and the headquarters was in turmoil. Everyone was in a rush. The rush to search for a CANDIDATE began in a hurry. In the live broadcast, she even reached Ersan Sen and was thrown to the point of "Let's talk. We can make you a candidate…". It wasn't going to happen, but it was happening. Two heavy players of table were trying to confront President Erdogan with their inexperienced mistakes! Isn't it like a joke! Even though Aksener understood that table was established to announce Kilicdaroglu's candidacy, she could not draw her own path…
In fact, a new road opened that day, neither Aksener, nor Imamoglu nor Yavas could see it! Those who could not read and decipher the events would be gone. Probably, these names would no longer be politically like Kilicdaroglu. If you were going to compete with a leader like Erdogan, it was imperative that the ALGORITHM be very solid. However, table was sitting around for a year and dispersing and could not even determine a CANDIDATE! The official announcement of the alliance, which collapsed before 14 May, was delayed after 28 May.
Consider the other side of the coin! President Erdogan has been in power for 21 years. According to political scientists, "WEARINESS" was too much. "LOSS OF VOTES" would not be a surprise. Despite being in power for all these years, he was cleaning up his own party, dealing with the difficulties brought by the COVID-19 virus, being the mediator of the Russia-Ukraine War, preventing economic blows, talking separately with the USA and the EU, and then liquidating the six party opposition TABLE. Someone who does a lot of work against those who can't announce a CANDIDATE… THAT WAS THE SITUATION. That's what was seen…
The leading one of those who saw this liquidation was Devlet Bahceli. When he received the results of the elections held on the evening of 28 MAY, he appeared on the screen and gave a meaningful speech. "Global lobby, manipulative ones, peddlers, schemers, provocateurs, moneylenders, bankers, all countries from the USA to the EU have read the edict of disgrace and could not overcome the spirit of Canakkale, the national struggle stance.
Before 14 May, Turkiye was besieged from all sides, all kinds of domestic and foreign operations were treacherously advanced and revived…" He drew attention to the GLOBAL dimension of the elections. And in the end, "…Many things will change in the future, almost everything. It seems so. InshaAllah Turkiye will not change…" Well, what did Devlet Bahceli mean here? I asked this to my friend who knew both Devlet Bahceli and the party very well…
The answer was global! My friend, said that the sentence of Devlet Bahceli should be interpreted as "The election results of May 28 are unbearable for the NATIONAL ALLIANCE. It is quite possible that not only Kilicdaroglu but also other leaders will leave or be forgotten. We know the losers somehow. I hope there will be no surprise names filling their place."
Strangely enough, an evaluation close to the same line came from the Hungarian leader ORBAN! Hungarian Prime Minister Viktor Orban spoke about the elections in Turkiye. Expressing that Erdogan's victory in the Presidential Elections in Turkiye brought a great relief for him, Orban said, "If Erdogan had not won, Soros' man would have opened the borders to immigrants, I prayed a lot for victory." He normally took table as well as Kilicdaroglu and put them next to SOROS…
I think Devlet Bahceli wanted to draw attention to the new waves that will come from this wing. As I often write, elections would have GLOBAL CONSEQUENCES. Now comes the time when we will see them…
Just wait…


Follow WakeUpUmmah

READ ALL ARTICLES

03.06.2023
Losers Club
Since Turkiye was very critical after the SECOND WORLD WAR, those who wanted to bring a new system to it lined up. USA-ENGLAND-GERMANY- FRANCE…
As I wrote before, they added us to the series of countries governed by COALITIONS. They established their own defenses through "CONSTITUTIONS" so that there would be no accidents. When those who did politics to BREAK THE GAME came to power, they found the "constitution" like an obstacle in front of them. This was nothing more than closing the way for the country's NATIONAL POWERS. Political formations, which acted knowingly by seeing the danger, were either divided, dealing with financial concussions or being cut with coups. THIS IS HOW THE WHEEL WORKED. I smile when I watch their discussion in CHP about whether " Mr. Kilicdaroglu should go or not"
It's not just about who the PRESIDENT is! It should be known that the cadres, understanding and route should change. Instead of thinking about them, they think it's a talent to insult the AK PARTY voters. The strange thing is that Anatolia opposes the system brought after 1945, while the CHP member in the cities did not think of anything but "Make Erdogan go". They did not have the same sensitivity.
They didn't even realize it. They were trying to get out of the business by defining what was going on as NATIONALISM… They were missing the awakening in ANATOLIA. On the evening of May 28, they ignored hundreds of thousands of people who participated in the election celebrations in dozens of countries. They did not look at the source of this enthusiasm that lasted for 21 years… Erdogan never let go of his struggle with his own party and the opposition, as he made his way, the MASS behind him grew even bigger. He both liquidated the OPPOSING ECOLE in his own party, brought the fully united opposition to its knees and establish a balance of judgment between the WEST and RUSSIA in such a painful period!
Despite all these difficulties, the support given to President Erdogan was to keep the COUNTRY IN THE NATIONAL LINE. This is how ANATOLIA evaluated it. Kilicdaroglu, on the other hand, thought that he would get results by taking Ali Babacan and Ahmet Davutoglu with him and adding Mrs. Aksener to the coalition. There was nothing that the CHP would gain when those who were defeated by Erdogan and stepped aside became a political shelter. No one understood…
Let's open it…
Let's go to NATO, EU again… Let's stop by Demirtas, who saw the game and said "Enough, I'm out"…
It was the French leader MACRON who loudly expressed the idea of INDEPENDENCE in Europe, that is, what needs to be done against the USA. He launched an attack against the US by putting forward the idea that "EUROPEAN ARMY SHOULD BE ESTABLISHED". He did this as soon as he took office.
French President Emmanuel Macron, who attended the security conference held in Bratislava, the capital of Slovakia, talked about regional security issues during his speech here. Macron, who said that he could no longer rely on the USA for the security of Europe in 2019 and explained what happened with the words 'NATO is brain dead', and now he said that Russian President Vladimir Putin started a military operation in Ukraine and woke NATO up with electric shock.
"Today we must do everything we can to help Ukraine carry out an effective counter attack," the French leader said in his speech and said that Ukraine is currently defending Europe. Emphasizing that lasting peace is at stake, Macron said, "In the most peaceful way, an area must be established that will ensure coexistence with Russia without any sides." As I wrote yesterday, Noam Chomsky and Macron were meeting at the same point!
Let's continue…
While Macron wanted to expel NATO, he suddenly had to cling to the structure they criticized with despair with Russia's move. Turkiye, on the other hand, was giving signs of doing what Macron wanted to do in the same time period! It was buying an S-400 and approaching RUSSIA. One of Turkiye's biggest problems was THAT IT COULD NOT CHOOSE THE AXIS IT WOULD STAND ON! It wasn't easy, of course, but this much of indecision was enough. Is it the EU? Is it the USA? Is it China? Is it Russia? WHO is it? We were trying to go by finding balances. It wasn't happening.
Because we were big players in the MIDDLE EAST and they all had big plans here independent of each other. Either we would clash and fight with all of them, or we would keep the enemies away with new alliances. After July 15, Turkiye found itself in DEEP RELATIONS with Russia. The spirit of time obviously brought this. While the 28-member EUROPEAN UNION, which was basically established against the USA, would reach China through Russia and establish a GLOBAL EMPIRE, the Kremlin came to Bestepe and they reached to the WHITE HOUSE.
England was saying goodbye to the EU with Brexit and we were saying goodbye to the EU with July 15. The rapprochement with Russia was not a PREFERENCE that the Paris-Berlin line liked very much. But they had nothing to do. Turkiye had a card strong enough to deeply shake EUROPE and lead it to destruction. It was not difficult for Ankara to start the REFUGEE WIND, to shake the EU. Neither the USA nor Russia would object to this!
With the start of the ARAB SPRING, the loser in general was EUROPE. France, in AFRICA, and Germany was losing in here. Turkiye, which they have been keeping at the door since the 1960s, was suddenly the country that held the security key of EU CAPITALS. An era was closing, power was changing places. Despite everything, Turkiye was shining and making its way.
The French media wrote "TURKS TOOK Africa FROM US WITH MENEMEN." for a reason. It had been a long time since a long-term struggle started. Erdogan started this with the liquidations from the AK PARTY. The conditions brought GREAT opportunities in front of Turkiye. President Erdogan was the one who made the best use of this.
That's what the CHP didn't understand. They were closing their eyes to the struggle. Even though they did not enter this lane, the people voted and called it "KEEP GOING". It was insufficient to explain what happened only through the PKK/YPG, it would be incomplete. Both TURKIYE and ERDOGAN chose their side in a GLOBAL STRUGGLE. The TABLE set up by Mr. Kilicdaroglu was on the other side.
On the side whose defeat is inevitable… That was the point. They still don't seem to understand…
Demirtas understood and stepped back. We are watching Mr. Kilicdaroglu…
NOTE: When looking carefully at Demirtas's statements, A DUAL STRUCTURE stands out at the party. So there are TWO ECOLES that I often write here too. Kilicdaroglu and Demirtas would also be defeated in their own party because they were on the losing side on the GLOBAL SCALE. This was inevitable. There were no signs indicating otherwise for now.


Follow WakeUpUmmah

READ ALL ARTICLES

02.06.2023