LEONARDO DA VINCI'S LETTER TO SULTAN BAYEZID II
In his lifetime Da Vinci had numerous, powerful patrons, from the Duke of Milan to the King of France. But he had also sought the patronage of Sultan Bayezid II in 1502.
Either during Da Vinci's sojourn in Venice or Rome, he submitted designs to the Ottoman Sultan for a bridge to span the Golden Horn inlet of the Bosphorus, in order to link the districts of Eminonu to Karakoy.
"I, your faithful servant, understand that it has been your intention to erect a bridge from Galata to Stambul, but that this has not been done because there were no experts available. I, your faithful servant, know how to do it."
Leonardo Da Vinci's letter to Sultan Bayezid II – 1502 (Topkapi Archives)
DaVinci's plans included a parabolic curve, keystone arch, and a pressed bow, a method that would not be developed until 300 years later.
Da Vinci's rival, Michelangelo, was invited to design the bridge, as well as paint and sculpt for Ottoman Selim I, but he was already committed to another project. In 1506 Pope Julius II had commissioned Michelangelo to work on Saint Peter's Basilica. If history had gone in a different direction, art history would have had a portrait of Selim I instead of the ceiling of the Sistine Chapel.
If Da Vinci's first bridge plan was not ambitious enough, he even proposed building a bridge across continents: "I plan to build a suspension bridge across the Bosphorus to allow people to travel between Europe and Asia. By the power of God, I hope you will believe my words." That project was not realised until 1973, which was then the fourth largest suspension bridge in the world.
The design for the smaller bridge did serve as an inspiration to Norwegian artist Vebjorn Sand, who used Da Vinci's design for the construction of a pedestrian walkway in As, Norway, the first civil-engineering project based on a Leonardo sketch.
Written By: Murat Mert
I won't bore you with a biographical introduction like who Vincent Van Gogh is, when he was born or when he died. If you are able to read this article, you have internet connection. You can find this information online. Show some effort.
I'll try to explain something else about Van Gogh as well as I can. Faithlessness…
Let's get straight to the point before going into history. Our famous painter… He might be famous now but he was a poor man back then. Isn't it always like this anyway? Everything becomes more valuable when they are gone, including people… Anyway… This poor painter painted a painting called Prisoners Exercising (Prisoners' Round). Have your tea and coffee before we review the picture below. This matter is deep, you will need time to understand it.
Our guy Van Gogh painted this painting after he cut off his ear.  He had been through so much. Who knows what kinds of problems he had. When a person is feeling lost, he can cut off his ear, or leg.
This guy is spinning around in a vortex of pessimism like a snake eating its tail, with 37 prisoners. Right there, right in the middle, there is someone looking at us. Is it a bird? Is it a plane? No, it's Superman! Of course not, this is none other than Van Gogh himself.
Van Gogh is saying, "I have entered a vortex, pessimism has taken over me, I am aware of everything, I will never be free". Would putting a man who is trapped inside, between four walls make a difference?
Yes, Van Gogh was aware of everything when he painted this painting. Just because he was in a mental institution did not mean he was crazy. Besides, there are more lunatics out there. Sane people are in mental institutions.  He is looking at us so beautifully, he is aware of everything but he knows he cannot change anything.  I don't know if he also knew that this situation led him into an irresistible depression… All I know is how sad the result was when the most important element of such a genius was missing. What is this important element? Faith…
When you look carefully at the wall, you will see white butterflies symbolizing hope.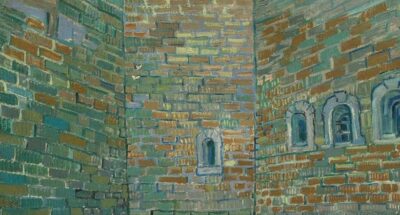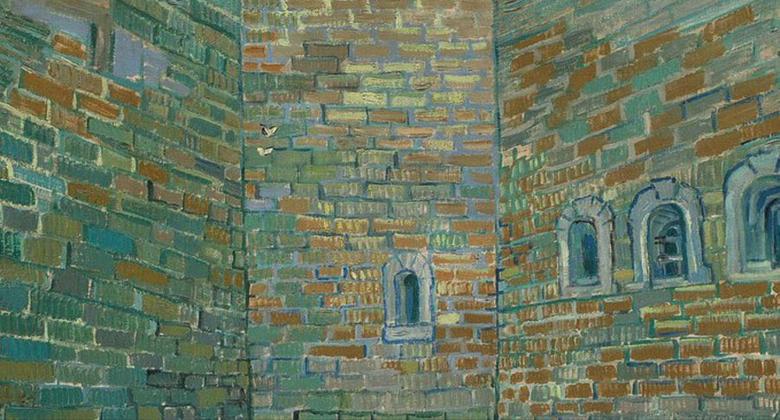 He has some hope or his hopes are trapped inside these high walls. Van Gogh ended his life some time after painting this painting. Yes, unfortunately, he committed suicide, so we cannot pray for his soul but we can learn important lessons. When Van Gogh went from this mortal life to eternal life in the worst possible way, he was 37. Wait a minute, did you say 37? There are also 37 people in the painting? 37 prisoners, symbolizing 37 years. These paintings may be worth millions of dollars today. When this poor man was alive, he could only sell one painting in the -in his own words- "37 years of his life in which he was a prisoner". For very cheap, too.
In a letter to his brother Theo, he says: "I cannot take it, Theo! I can't stand how hard this life is. I'm painting all the time to forget, but I can't! I can't find a cure for the never-ending whispers and screams in my ear. I can't resist it and I'm afraid of hurting myself." The original is given below.
Oh, you poor guy. You are aware of everything but lack of one element took you away from us. If faithlessness captures a body, the end is always a disappointment, even if the mind that body carries is at the level of genius. Believing is in human nature. The Creator created people in the most beautiful way, even the phrase "the most beautiful" is not enough to explain it. A person cannot live without faith, even if they do, they live a life like Van Gogh, feeling trapped.
I've only used the word "faith" so far. It's your business what you believe in. But believing is in human nature, the important thing is "how". What do you believe in and "how" do you cherish this belief? If you put 37 "supposedly unbelieving" people on a plane and the plane starts falling from 37,000 feet, 37 of them would believe in something before they are 33,000 feet high, I'm not necessarily talking about the belief "Allah" is "Absolute Power", I'm talking about belief and faith itself: Some of these 37 people would believe in the plane at that moment, some would believe in the Sun. Some can even believe in an ox and some of them would believe in the seat they are sitting on. The important thing is what you believe in and how. No matter how smart and successful you are, you are DOOMED to live like a "prisoner" until you have faith truly!