COUNTRIES RULED FOR YEARS BY THE OTTOMAN
COUNTRIES RULED FOR YEARS BY THE OTTOMAN!
1. Turkiye (…)
2. Bulgaria (545 years)
3. Greece (400 years)
4. Serbia (539 years)
5. Montenegro (539 years)
6. Bosnia and Herzegovina (539 years)
7. Croatia (539 years)
8. Macedonia (539 years)
9. Slovenia (250 years)
10. Romania (490 years)
11. Slovakia (20 years) Ottoman name: Uyvar
12. Hungary (160 years)
13. Moldova (490 years)
14. Ukraine (308 years)
15. Azerbaijan (25 years)
16. Georgia (400 years)
17. Armenia (20 years)
18. Southern Cyprus (293 years)
19. Northern Cyprus (293 years)
20. Southern lands of Russia (291 years)
21. Poland (25 years)-protection- Ottoman name: Lehistan
22. The southeast coast of Italy (20 years)
23. Albania (435 years)
24. Belarus (25 years) -protection-
25. Lithuania (25 years) -protection-
26. Latvia (25 years) -protection-
27. Kosovo (539 years)
28. Vojvodina (166 years) Ottoman name: Banat
29. Iraq (402 years)
30. Syria (402 years)
31. Israel (402 years)
32. Palestine (402 years)
33. Urdun (402 years)
34. Arabia (399 years)
35. Yemen (401 years)
36. Oman (400 years)
37. United Arab Emirates (400 years)
38. Qatar (400 years)
39. Bahrain (400 years)
40. Kuwait (381 years)
41. Western lands of Iran (30 years)
42. Lebanon (402 years)
43. Egypt (397 years)
44. Libya (394 years) Ottoman name: Tripoli
45. Tunisia (308 years )
46. ​​Algeria (313 years)
47. Sudan (397 years) Ottoman name: Nubia
48. Eritrea (350 years) Ottoman name: Habes
49. Djibouti (350 years)
50. Somalia (350 years) Ottoman name: Zeyla
51. Kenyan beaches (350 years)
52. Tanzanian beaches (250 years)
53. Northern regions of Chad (313 years) Ottoman name: Reşade
54. Part of Niger (300 years) Ottoman name: Kavar
55. The northern lands of Mozambique (150 years)
56. Morocco (50 years) -protection-
57. Western Sahara (50 years) -protection-
58. Mauritania (50 years) -patronage-
59. Mali (300 years) Ottoman name: Gat Kazası
60. Senegal (300 years)
61. Gambia (300 years)
62. Guinea-Bissau (300 years)
63. Guinea (300 years )
64. Part of Ethiopia (350 years) Ottoman name: Habeş (Abyssinian)
Although not officially located within the borders of the Ottoman Land borders, the places that are actually connected to the Caliphate are:
65. Muslims of India -Pakistan-
66. East India Muslims -Bangladesh-
67. Singapore
68. Malaysia
69. Indonesia
70. Turkestan Khanates
71. Nigeria
The Clock Towers From The Archive Of Sultan Abdul Hamid
The Clock Towers From The Archive Of Sultan Abdul Hamid
The clock, which provided great convenience to people with its invention, was located in the city squares at a size and height that everyone could see before it got smaller and went into pockets. Although they were built in the West, these historical buildings, which became works of art in the East, were the most striking architectural works of the cities. On the 25th anniversary of Sultan AbdulHamid's accession to the throne, it spread to the interior of Anatolia, with the governors sending an edict to build a clock tower. We have compiled the photographs of clock towers that have witnessed centuries from the archive of Sultan AbdulHamid.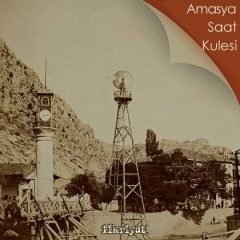 Amasya Clock Tower
The clock tower, located at the north end of the bridge, right next to the Government Mansion, was built in 1865 by the Amasya Governor Ziya Pasha.
Ankara Clock Tower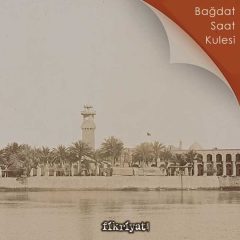 Baghdad Clock Tower
Although clock tower construction emerged in the West, it became an art in the East.
The first examples of these historical structures, which have been seen since the 13th century, were seen in Italy and England.
It started to be seen in the Ottoman Empire towards the end of the 16th century.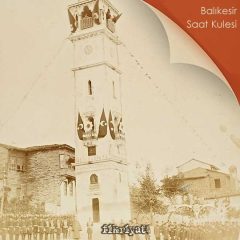 Balıkesir Clock Tower
Balikesir Clock Tower, which was brought to the city by Mehmet Pasha of Crete in 1829, was built in a cylindrical shape, similar to the Galata Tower in Istanbul.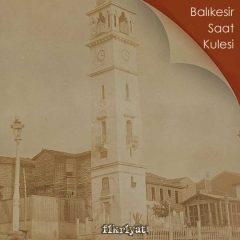 Balıkesir Clock Tower
When it was destroyed due to the earthquake in 1897, it was rebuilt in 1901 as it is today.
The tower, which has clocks in all four directions, was made of cut stone and decorated with relief workmanship.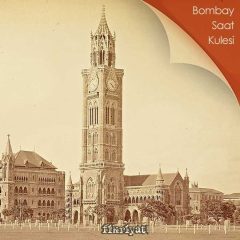 Darülfünun building and clock tower in Mumbai, India
Architectural works of the period reflect this feature because they were built in baroque, empire, eclectic and neo-classical styles. Clock towers are usually plain stone structures. Clock towers in Tophane, Yıldız Palace, Dolmabahçe, İzmir and İzmit are the most ornate.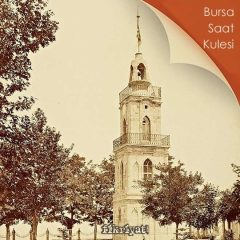 Clock tower in the garden of Osman Gazi tomb
The clock tower located in Tophane Park in Bursa; It was first built during the reign of Sultan Abdulaziz. It was demolished at an unknown date, however, until the 1900s. Its construction started again in 1904 and was completed on August 31, 1905. It was put into service with a ceremony by the Governor Reşit Mümtaz Pasha on 31 August 1906 in honor of Abdülhamid's accession to the throne.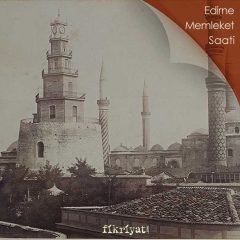 Edirne Clock Tower
The tower, which became known as the "Macedonian Clock Tower" after the wooden floors and clocks that had been built by Hacı İzzet Pasha, one of the governors of Edirne, on the tower in 1866-1867, was severely damaged in the 1953 earthquake.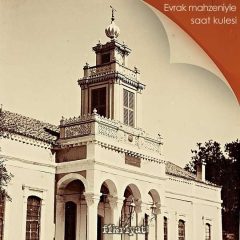 In addition to showing the time, it was also used as a fire watchtower.
Some clock towers, such as those in Dolmabahçe and Yıldız palaces, were used as barometers and thermometers.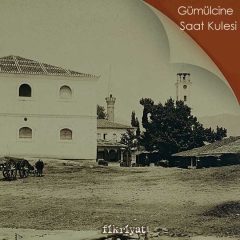 Gümülcine Clock Tower
According to the researches carried out by academics, there are forty-four standing in Anatolia, fifteen rising like a tower by connecting to a structure, twenty-five that have disappeared, fifteen newly built, six in Albania, twenty-three in Bosnia-Herzegovina, thirty-five in Bulgaria, and Palestine.
, four in Iraq, eleven in Kosovo, one in Libya, two in Lebanon, fifteen in Macedonia, one in Egypt, one in Romania, one in Serbia, three in Syria
and a total of 115 clock towers, of which fourteen in Greece, were identified.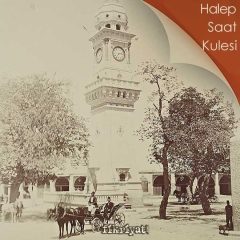 Halep Clock Tower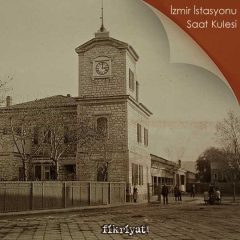 İzmir Station Clock Tower
Izmir Clock Tower, one of the Ottoman sultans, Sultan II.
It was built to celebrate the 25th anniversary of Abdülhamid's accession to the throne.
The 25-meter-high, 4-storey and octagonal tower, built by the commission consisting of İzmir Governor Kıbrıslı Kamil Pasha, his son Naval Mirliva Said Pasha and Mayor Eşref Pasha, adorns Konak Square.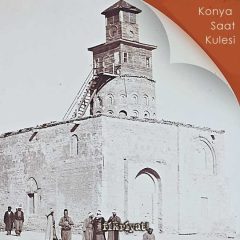 Konya Clock Tower
This clock tower in Konya was converted from a church and used as a mosque and later as a clock tower.
In 1872, the governor of Burdurlu Ahmed Tevfik Pasha had a square wooden room built on top of its dome to turn the Eflatun Masjid into a clock tower, and a wooden tower was placed on top of it.
The tughra of Sultan Abdulaziz was engraved on the outer face of the mihrab wall of the building, which has clock dials on all four sides.
Unfortunately, it could not reach the present day because it was demolished to its foundations in 1921.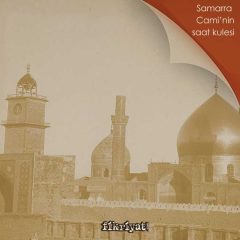 Samarra Cami (Mosque) Clock Tower
Clock towers, which became the symbols of cities, were built on the highest hills or in squares that could be seen from everywhere.
According to their locations, they were divided into three as those located in the squares, those planted on slopes and hills, and those located on a building.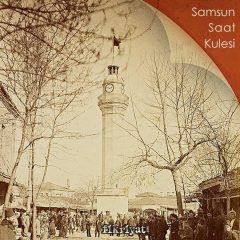 Samsun Clock Tower
Sultan II.
It was built on October 4, 1906 during the reign of Abdülhamid.
The 15-meter-high clock tower had a cylindrical body rising on an octagonal base.
The top of the hull was made similar to the minaret balconies.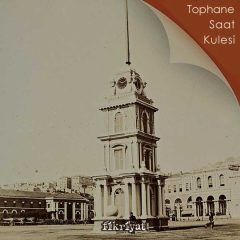 Tophane Clock Tower
Tophane, also known as Nusretiye Clock Tower, was built by Sultan Abdülmecid in the second half of the 19th century.
The clock tower gradually narrows upwards and has four floors with the clock section.
It is located in front of the Tophane Barracks, behind the Nusretiye Mosque.
It is the first surviving clock tower of Istanbul.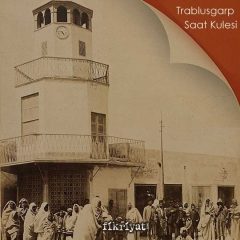 Tripoli Clock Tower
The historical clock tower in the bazaar next to Şuheda Square can be seen from all over the city and reflects the Ottoman architecture of that period.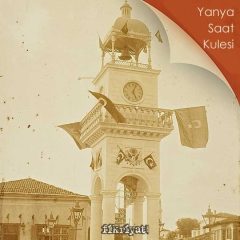 Yanya Clock Tower
II.
On the 25th anniversary of AbdulHamid's accession to the throne, a decree was sent to the governors regarding the construction of a clock tower.
Thus, historical buildings spread to the interior of Anatolia.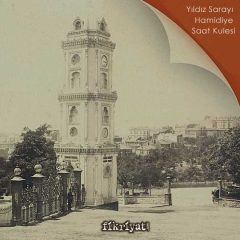 Yıldız Palace Hamidiye Clock Tower
Hamidiye Clock Tower is located in Yıldız district of Beşiktaş district of Istanbul. As it can be understood from the tugra on the entrance gate, it was built by AbdulHamid II between 1889 and 1890. The architect of the clock tower, which was built with four sides (octagon) with broken corners, is Sarkis Balyan. There are four inscriptions on the first floor of the tower, a thermometer and barometer on the second floor, and a clock room on the top floor. There is a compass on the decorative roof of the clock tower and a weather vane on its top.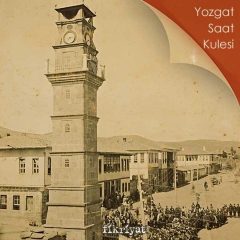 Yozgat Clock Tower
Yozgat Clock Tower, built by Şakir Usta in 1908 under the mayorship of Tevfikzade Ahmet Bey, is located in the city center.
The imposing and centuries-old clock tower consists of 7 floors, with the ground floor and parts of the bells.
The clock tower, which was built with cut stones, has 4 clocks placed on the facades of the first floor.
INEGOL ITS EARLY OTTOMAN CONQUEROR
Inegöl & its early Ottoman conqueror, Turgut Bey
(Translated from the official Inegöl City & Inegöl Chamber Of Commerce & Industry webpages & also some available translations of early chronicles)
If you want, you can skip sections on ancient history of İnegöl & go straight to early Ottoman history [that is being showcased ın Kuruluş Osman Season 3]
About the Name of İnegöl
The name of İnegöl in the Byzantine Period was Angelacoma. However, a source has not yet been found to confirm the claims that the name İnegöl is the distorted pronunciation of Angelacoma.
In the sources, it is seen that the name İnegöl was written in different forms. However, it is known that in most of the Ottoman sources it was written as Ayna-Göl or İne-Göl.
Evliya Çelebi, tells in his travel book that İnegöl is derived from Ezinegöl; He narrates that İnegöl took the name "Ezinegöl" because it was conquered on Friday, that is, Ezine day according to the parlance of those days, and that in time, the "Ez" part at the beginning was removed and it was called only İnegöl.
Archeological Surveys.
The history of İnegöl, according to the findings of the archeological surveys carried out in 1847 and 1942, dates back to 3000 BC. There are 6 mounds of archeological interest in İnegöl, namely Cumatepe, İnegöl 2, Şıbalı, Boğazköy, Palangatepe and Kurşunlu.
Today, the mound in the middle of the city, around the municipality headquarters, is called Cumatepe.
During excavations carried out by Bursa Archeology Museum in 1999 on the Cumatepe mound in the city center, mixed aged objects ranging from the Late Ottoman to the Chalcolithic Period were found.
Inegol in Antiquity
İnegöl has been invaded frequently due to its strategic location on military and commercial routes since ancient times.
It has been determined that Phrygians, Lydians, Persians and Macedonians successively ruled in İnegöl, which has a history of 5000 years. In 74 AD, it came under the rule of the Roman Empire.
And after the split of the Roman Empire in 395 AD, İnegöl passed under the rule of the Eastern Roman Empire (Byzantine). It continued to be under Byzantine rule as a Tekfurluk center until the establishment of the Ottoman Principality by Osman Ghazi.
The Establishment of the Ottoman State and the Conquest of İnegöl
Osman Bey, who became the head of the principality in 1281 upon the death of his father Ertuğrul Bey, began the conquests against Byzantium soon after.
[Official Webpage from Inegol Chamber Of Commerce & Industry also adds that Osman Bey initially followed a policy of maintaining cordial, good working, relationships with the feudal landlords in Bursa, Bilecik and surroundings. Except with Ayah Nikola.]
In a battle with Ayah Nikola, the battle of Ermeni Beli in 1284, he and his men had to retreat after the martyrdom of Baykoca, the son of his brother, Savcı Bey.
Baykoca was the first martyr of the dynasty and his grave is in Hamzabey District of İnegöl.
Despite the retreat (and Bayhoca's martyrdom), Ottoman history began with this first military operation.
The foundations of a state that would rule for six centuries were laid in the quadrangle of Söğüt, Bilecik, Domaniç and İnegöl in a short period of time.
After a while, Osman Bey raided Kulaca Castle near İnegöl and conquered the castle. The year of this conquest event was recorded as Hijri, 684, Gregorian, 1285 in the chronıcles of Aşıkpaşazade, and it was stated that this conquest was the first conquest of Osman Gazi.
[It is also mentioned in some early chronicles that deeply affected by Bayhoca's martyrdom, Osman Bey never visited Angelacoma (İnegöl) and surroundings for approximately 14-15 years, while continuing with conquering other castles – the Karcahisar (İnönü Castle), Bilecik and Yarhisar Castles. A great many friends of feudal landlord of Angelacoma were thus erased from history]
Concerned about these developments, İnegöl tekfuru, Nikola, formed an alliance with other tekfurs to eliminate Osman Bey.
Osman Bey, becoming aware of this alliance, assigned the conquest of İnegöl to his comrade, Turgut Alp.
[in many early sources, Turgut Alp is referred to as Osman Bey's dear friend & comrade – which make it reasonable to assume that age wise, he 'might' have been Osman Bey's contemporary. This is the more widespread understanding & the reason why in the earlier TRT series on Osman Bey, he was shown as Osman Bey's contemporary & friend]
With the siege plan implemented by Turgut Alp, İnegöl was finally conquered in 1299. After this conquest, Osman Bey handed over the administration of İnegöl and its surrounding villages to Turgut Alp.
[[According to early Ottoman sources, Turgut Alp was also with Osman Bey during the conquest of 'Yarhisar' and was then commissioned with the conquest of Inegol. In these sources, it is also mentioned that Turgut Alp first sieged the city and then Osman Bey came to his aid. It was also mentioned that during the conquest of Inegol, the city's Tekfur, Aya Nikola, was executed and thereafter, Osman Bey assigned the administration of Inegöl & ıts surrounding villages to Turgut Alp]
The region where Inegol's Kirles (Paşaören), Süle, Genci (Turgutalp Village), Gelene (Kayapınar) and Kıran Neighborhoods are located were called the Turguteli-Turgutlar district.
Turgut Alp, who also contributed significantly in the subsequent conquest of Bursa by Sultan Orhan, passed away in the village of Genci (today's name Turgut alp Köy Mahallesi), where he had settled in his later years.
His mausoleum is on a large hill overlooking İnegöl in Turgut Alpköy Mahallesi, and a memorial ceremony is held around the mausoleum every year on the day of Hıdrellez.
The naming of a neighborhood, a village, an Anatolian High School and a mosque in İnegöl after Turgut Alp is an indication of the place this highly successful early Ottoman commander holds in the collective memory of generations that came after him.