Queen of Malaysia Visited Kurulus Osman Set!
Queen of Malaysia visited the set of the TV series Kurulus Osman.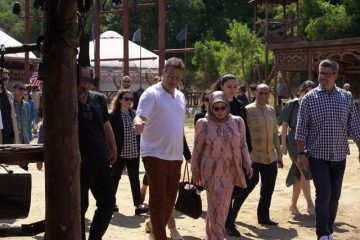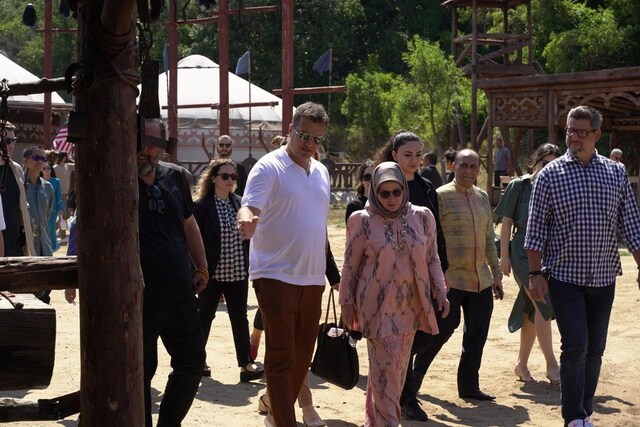 Meeting with the producer and screenwriter Mehmet Bozdag and the actors, Queen Azizah congratulated Bozdag Film for its success. Conveyed her congratulations and wishes of gratitude on behalf of the Malaysian people.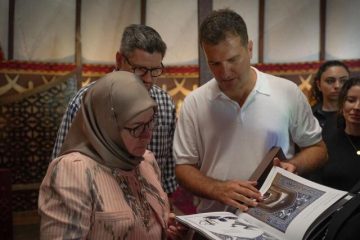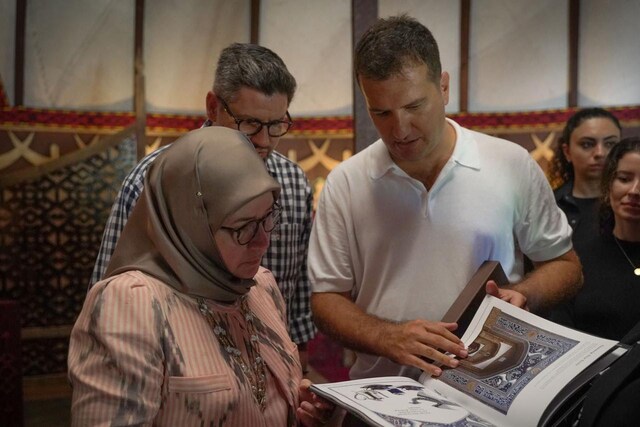 During their visit, Queen Azizah and the Malaysian delegation were accompanied by Mehmet Bozdag, the Director Metin Gunay, the actors of the TV series Kurulus Osman and Bozkır Arslan Celaleddin Harzemsah, Ozge Torer, Ahmet Yenilmez, Yigit Ucan, Çagrı Sensoy, Acelya Ozcan and Emre Kıvılcım.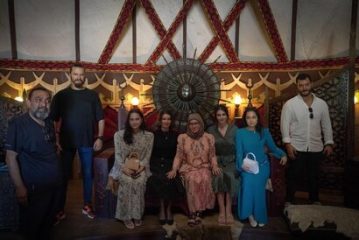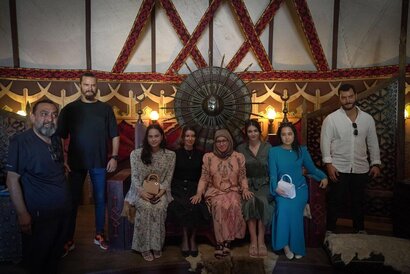 Queen Azizah, who visited the plateau, received information from Mehmet Bozdag about the Bozdag Film Plateau and its productions. Said that she watched all the episodes of the Kurulus Osman, Destan and Bozkır Arslan Celaleddin Harzemsah series and was a follower of the series.
Expressing her admiration for Bozdag Film Plateau, Queen Azizah said, "You teach the history, I look forward to every episode of your TV series, I don't miss any of them. I'm looking forward to the new episodes," she said.
Mehmet Bozdag and the actors of the TV series presented the costumes, daggers, Turkmen Headgear and handmade special design products of HAR Art to Queen Azizah.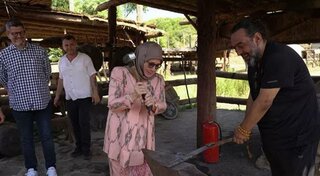 Queen Azizah, who was visiting the blacksmith's workshop in Kayı Obası, forged an iron on the anvil, saying "Allah is HAYY (The One Ever-Living) Allah is HAQQ (The Absolute Truth)".
King of Malaysia Sultan Abdullah Ri'ayatuddin Al-Mustafa Billah Shah and Queen of Malaysia Tunku Azizah Aminah Maimunah Iskandariah completed their official visit in Ankara and left Turkey.
When Will Kurulus Osman Season 5 Start
When will Kurulus Osman Season 5 start? Kurulus Osman Season 5 release Date.
Preparations for the new season have been completed in the Kurulus Osman series, which will meet its audience with its 5th season. Filming for the TV series Kurulus Osman, produced by Mehmet Bozdag, will begin at the end of August; However, while many ATV series will meet the audience in September, unfortunately Kurulus Osman will wait for another month.
Uğur Güneş Will Play The Role Of Selahaddin Eyyubi
UĞUR GÜNEŞ WILL PLAY THE ROLE OF SELAHADDIN EYYUBI.
The leading role of the Selahaddin Eyyubi series, which will meet with the audience on the TRT 1 screen in the new season, has been announced.
Emre Konuk, the owner of Akli Film, announced that the role of Selahaddin Eyyubi was given to Ugur Gunes. Ugur Gunes recently took part in the TV series "Al Sancak", which was also broadcast on TRT 1.
"Again… We are embarking on a new journey with my old friend. The role of Selahaddin Eyyubi, the conqueror of Al-Quds, is entrusted to Ugur Gunes with his talent, passion and love for his job.", Konuk said.