A Farewell That Hurts Osman Bey In Kurulus Osman
A farewell that hurts Osman Bey in Kurulus Osman! She was one of the most valuable actresses for him.
Unexpected news came from Yildiz Cagri Atiksoy, who played the role of Umur Bey's daughter and Osman Bey's wife in Kurulus Osman, each episode of which was a scene of excitement on ATV. It's time to leave for Yildiz Cagri Atiksoy, who made a name for herself with the character of 'Malhun Hatun' in Kurulus Osman, which attracted great attention.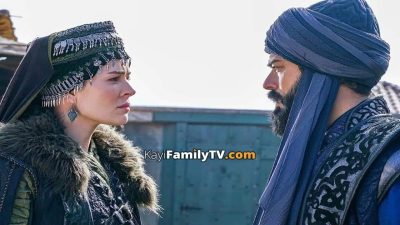 Malhun Hatun's farewell will be talked about a lot in Kurulus Osman, which is preparing to complete its 4th season with its 130th episode and will continue its adventure in the 5th season. The story of Yildiz Cagri Atiksoy, who was learned that she wanted to leave the team voluntarily, in Kurulus Osman will come to an end, causing disappointment to those on the screen. Yildiz Cagri Atiksoy, who covered the agenda on the media with her farewell to Kurulus Osman, appeared in projects such as Öyle Bir Geçer Zaman ki (Once Upon a Time), Emret Komutanım (My Commander), Kayıp Prenses (Lost Princess), Savaşçı (Warrior), Şampiyon (Champion), Yedi Güzel Adam (Seven Good Men), Evli ve Öfkeli (Married and Angry).
WATCH KURULUS OSMAN WITH ENGLISH SUBTITLES
When Will Kurulus Osman Season 5 Start
When will Kurulus Osman Season 5 start? Kurulus Osman Season 5 release Date.
Preparations for the new season have been completed in the Kurulus Osman series, which will meet its audience with its 5th season. Filming for the TV series Kurulus Osman, produced by Mehmet Bozdag, will begin at the end of August; However, while many ATV series will meet the audience in September, unfortunately Kurulus Osman will wait for another month.
Uğur Güneş Will Play The Role Of Selahaddin Eyyubi
UĞUR GÜNEŞ WILL PLAY THE ROLE OF SELAHADDIN EYYUBI.
The leading role of the Selahaddin Eyyubi series, which will meet with the audience on the TRT 1 screen in the new season, has been announced.
Emre Konuk, the owner of Akli Film, announced that the role of Selahaddin Eyyubi was given to Ugur Gunes. Ugur Gunes recently took part in the TV series "Al Sancak", which was also broadcast on TRT 1.
"Again… We are embarking on a new journey with my old friend. The role of Selahaddin Eyyubi, the conqueror of Al-Quds, is entrusted to Ugur Gunes with his talent, passion and love for his job.", Konuk said.