HACI BAYRAM VELI EPISODE 9
WATCH HACI BAYRAM VELI EPISODE 9 WITH ENGLISH SUBTITLES FOR FREE!
"What they call the Heaven is Just a few mansions and a few Houris
Give them to the ones who want them, I need You, only You."
[Yunus Emre – Bana Seni Gerek Seni]
The Journey of Love: Hacı Bayram-ı Veli Episode 9
Molla Numan, who was looking for a way to be acquitted, saw who the person who hired Karaca Halil was. Deputy Qadi is in trouble to catch Molla Numan. The Qadi from Bursa is aware of the loom set up. It complicates the work of the vice-regent.
Sheikh Murat, who is increasingly cornered, goes to Mevlüt Bey's mansion to find Molla Numan, but cannot find what he hoped for. Somuncu Baba brings the assistant of Sheikh Murat, Kemal and Tatar, before the judge, with his plan.
9th PAGE OF THIS JOURNEY

Please do not forget to donate to our sister Melisa for her great work.
Disclaimer:
This content is provided and hosted by a 3rd party server.
Sometimes this servers may include advertisments.
KayiFamilyTV.com does not host or upload this material and is not responsible for the content.
HACI BAYRAM VELI EPISODE 22
HACI BAYRAM VELI EPISODE 22 WITH ENGLISH SUBTITLES FOR FREE!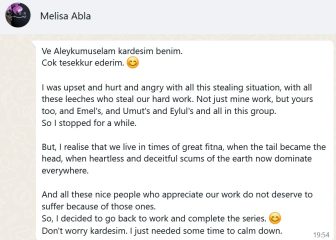 (If you can't read) 👇
Ve Aleykumuselam kardesim benim.
Cok tesekkur ederim. 😊
I was upset and hurt and angry with all this stealing situation, with all these leeches who steal our hard work. Not just mine work, but yours too, and Emel's, and Umut's and Eylul's and all in this group.
So I stopped for a while.
But, I realise that we live in times of great fitna, when the tail became the head, when heartless and deceitful scums of the earth now dominate everywhere.
And all these nice people who appreciate our work do not deserve to suffer because of those ones.
So, I decided to go back to work and complete the series. 😊
Don't worry kardesim. I just needed some time to calm down.
---
I dont know what should say more after Melisa abla's message but these creatures not just drain our energy but ruin what we work and make effort day and night. You plant a rose to your garden, take care like its your baby, show effort for it grow best way.. After months you start to see your efforts and smell its beauty scent… Then some thieves come and steal your roses. They dont just steal roses but ruin your garden. This is same situation we feel…
Do you want to use Melisa Abla's work? Then there is better way. Contact her and make offer for her great effort [email protected]
People who write and copy translation from video. Remember what happened to Abu Lahab's hand…
If you want to support Melisa abla economicly and spiritually this is also her paypal address: [email protected]
You can also use this donation address: