HACI BAYRAM VELI EPISODE 12
WATCH HACI BAYRAM VELI EPISODE 12 WITH ENGLISH SUBTITLES FOR FREE!
"No one can truly grasp the secret of the secrets.
none but HU [He, who is]
the Absolute Essence, Allah"
By Haci Bayram Veli
The Journey of Love: Haci Bayram-ı Veli Episode 12
When Haci Bayram Veli arrived at the Palace, Sultan Murat was waiting for him, expecting to see some good-for-nothing scum, who, according to rumours, harboured bad intentions towards his State and has cast an eye on his Throne.
However, what he saw in front of him was a great, perfect saint. The Sultan very quickly realized Bajram's great knowledge and spiritual level, as well as the exceptional respect he commanded.
Realizing that what has been said about him was just slander and gossip, Murad apologized to him and showed him a great honour. He also asked him to stay and lead prayers in Eski Cami (the Old Mosque).
12th PAGE OF THIS JOURNEY

SUPPORT MELISA DIRILISH TRANSLATION
Disclaimer:
This content is provided and hosted by a 3rd party server.
Sometimes this servers may include advertisments.
KayiFamilyTV.com does not host or upload this material and is not responsible for the content.
HACI BAYRAM VELI EPISODE 22
HACI BAYRAM VELI EPISODE 22 WITH ENGLISH SUBTITLES FOR FREE!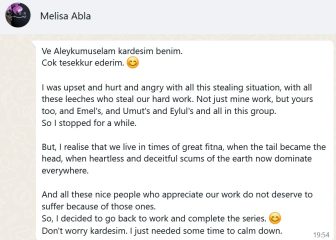 (If you can't read) 👇
Ve Aleykumuselam kardesim benim.
Cok tesekkur ederim. 😊
I was upset and hurt and angry with all this stealing situation, with all these leeches who steal our hard work. Not just mine work, but yours too, and Emel's, and Umut's and Eylul's and all in this group.
So I stopped for a while.
But, I realise that we live in times of great fitna, when the tail became the head, when heartless and deceitful scums of the earth now dominate everywhere.
And all these nice people who appreciate our work do not deserve to suffer because of those ones.
So, I decided to go back to work and complete the series. 😊
Don't worry kardesim. I just needed some time to calm down.
---
I dont know what should say more after Melisa abla's message but these creatures not just drain our energy but ruin what we work and make effort day and night. You plant a rose to your garden, take care like its your baby, show effort for it grow best way.. After months you start to see your efforts and smell its beauty scent… Then some thieves come and steal your roses. They dont just steal roses but ruin your garden. This is same situation we feel…
Do you want to use Melisa Abla's work? Then there is better way. Contact her and make offer for her great effort [email protected]
People who write and copy translation from video. Remember what happened to Abu Lahab's hand…
If you want to support Melisa abla economicly and spiritually this is also her paypal address: [email protected]
You can also use this donation address: